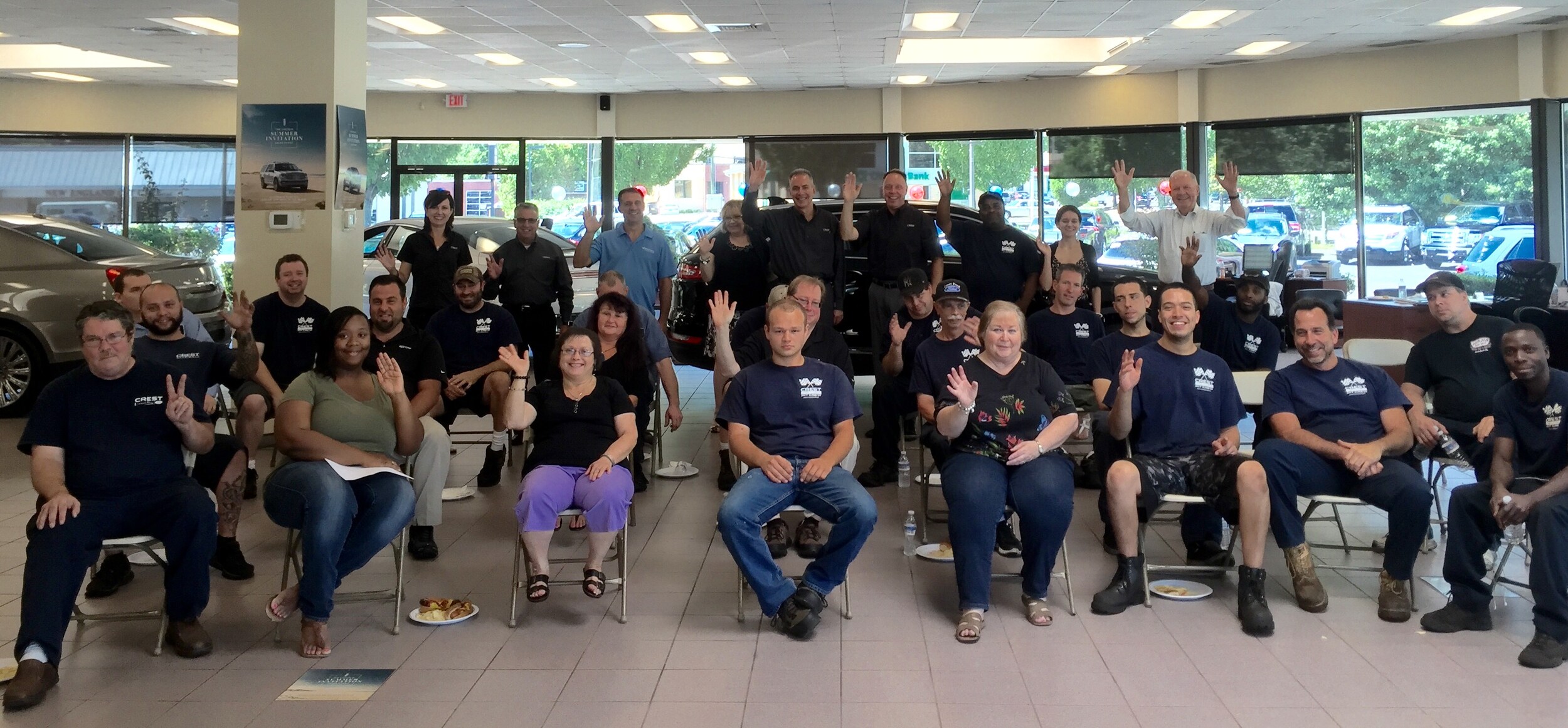 How are we doing? Please leave us a review below or click one of the social media buttons to let us know - your experience is very important to us at Crest.
 __________________________________________________________________________________________________
I just feel that everyone at Crest takes such good care of me and I'm grateful. -Adair L from CT 
It is also comforting to know that there are still dealerships in the area that have a loyal and productive group of employees all working for the same goal of outstanding customer satisfaction. -Ben S from Hebron, CT

Service is excellent and personnel are nice. -Marilyn C from Milford, CT
The service dept is always professional and any service I've had done on my three vehicles is done to my satisfaction. Would highly recommend Crest. -Patrick M from CT
I have purchased 1 Mercury and 3 Lincolns from Allen Trafny and I will never go to any other dealership. They treat you like you own the place. They listen to what you want and deliver; they never try and oversell you. As for service, when I have requested things like my transmission being flushed, they come back and say, that it is fine and I can wait, their prices are more than fair, many times I feel like I am the one taking advantage of them. People like Jeff and JT in the service area are wonderful to work with and treat you like you are the only one that matters. They clearly do not nickel and dime you, as they just want you to be happy.  They may have a relaxed atmosphere (greatly appreciated) throughout the facility but are professional and courteous. Over the years I learned that an old classmate (Eric Bacon) is a sales consultant and have gotten to know the other wonderful sales people like Bill Keisch and Mellissa DePalma, they are also very kind and knowledgeable and would never hesitate to use anyone of them when buying a car. Mr. Fitzpatrick you have developed a great organization, and one I would strongly recommend to everyone, thank you. -James F. from Hamden, CT
Great experience!!! Melissa Depalma...just wanted to take a minute to thank you again for such great experience in the purchase of our Navigator. It had been 13 years since we bought a new car.  As I mentioned I had been in contact with several dealers about a few different types of SUV's. I prefer to communicate via email as I feel it keeps the "salesman" out it. Of all the dealerships I spoke you were hands down the best. No pressure. You simply provided answers to my questions and added details as you saw fit. No "come on and let's see what we can do" or " let me talk to my manager". We basically locked in our deal all via email which was great. The day we did come in for actual delivery the smooth process continued. You had is in and out in about 1hr.  We love the car and would certainly look no where else when the time comes again to purchase a new vehicle. 
-Aaron Anderson from Seymour, CT
Great service, they go above and beyond! I recently purchased a Ford Explorer, which I love, love, love!  I stopped in for a minor repair, with my two year old who was ready for a nap, but not without his afternoon cup of milk. As I was in a rush that day, I forgot his milk! The staff caught wind of my dilemma and actually went out and purchased milk for my little boy while we waited for our car. You don't know how this simple act of kindness just warmed my heart. The owner, sales reps, service reps, and support staff are all wonderful.  I will never forget the thoughtfulness of the staff here at Crest of Woodbridge, they truly do go above and beyond.
-
K.Pink from Meriden, CT
Easy to deal with... Just bought a used 2008 Grand Marquis. Dealership was extremely friendly, low pressure, and worked very quickly to get the purchase done. Would recommend to everyone. 
-Ben H from Plantsville, CT 
Purchased my first car sight unseen! I can't believe I just purchased my XKR without ever seeing it. I knew exactly what I wanted to buy and wasn't going to settle for anything less, who knew it would take me two and a half months to find it and it was going to be 1800 miles away.  Rob went out of his way to provide pictures, details and responding to each of my phone inquiries as well as computer inquiries. Everything was first rate from beginning to end. Tom was great in helping the financing. It was shipped to me and when it came out of the enclosed car carrier, I knew I had done the right thing. I am so pleased and happy to have had such a nice purchasing experience. I'm thrilled with my Jag and would do it all over again. Thanks Crest!! 
-Happy in Texas from Houston, TX
Excellent Dealer... I purchased a Jaguar XK sight unseen from Crest Jaguar. Excellent in every way. Car was delivered by transport and everything related to the car was as described by the sales manager.  I would highly recommend Crest Jaguar. 
-Dick W from Hudson, WI
AAA Approved Auto Repair Questionnaire Reviews
Very nice facility, personnel, very knowledgeable. -says a customer who has done business with Crest for 10 years
I have always had great service from Crest - -says a customer who has done business with Crest for 10 years
Work done properly, friendly personnel, top not waiting room and restroom, arrangements made while car is inside of bldg at service desk. A winner. -says a customer who has done business with Crest 14 years
The staff is excellent and they know their customers by name. Can't say enough good things about Crest and the staff. Car is always clean and washed. -says a customer who has done business with Crest for 14 years
Have been using the service dept at Crest since 2006. I have no complaints with that department at all and expect to have a lasting relationship with them. In my book they are A#1.-says a customer who has done business with Crest for 10 years
"I was a customer from Whalley Ave. I have always used them." - a loyal Crest customer
"Have purchased around 7 cars from them. I have always gone to them for all work - even regular oil changes - never anywhere else. -a loyal Crest customer
The best automotive service I have used in 40 years of owning and operating cars. You can not go wrong with service and price at Crest! - another Crest customer who has done business with us for 10 years